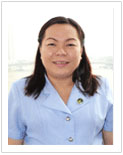 Kerada Krainuwat, Assistant Professor, Dr.
ผู้ช่วยศาสตราจารย์ ดร. กีรดา ไกรนุวัตร

Public Health Nursing
Faculty of Nursing, Mahidol University
Tel. No.


02-4415333


02-4415275-81 Ext. 2665


kerada.kra@mahidol.ac.th
2019
Srihabutr S, Krainuwut K, Nakagasien P. Factor predicting quality of care among patients with diabetes at public health center, Bangkok metropolitan administration. J Nurs Sci 2019;37(2):92-106.
Saenyacharoenkul W, Krainuwat K, Nakagasien P. Effects of a dietary modification program on food consumption behavior fir people with prediabetes. J Nurs Sci 2019;37(1):59-72.
2016
Tongprong P, Krainuwat K, Rattanathanya D. Predictive factors of exercise behavior among overweight workers in an electric plant. Journal of Nursing Science 2016;34(1):77-87.
Kunset P, Krainuwat K, Nakagasien P. Effects of a knowledge and self-efficacy-building program on self-care behavior for uncontrolled essential hypertension. J Nurs Sci 2016;34(4):90-102.
2015
Komkam K, Rattanathanya D, Krainuwat K. Predictive factors for adaptation among caregivers of stroke patients. Journal of the Thai Army Nurses (2016);16(2):114-22.
2013
Ratanapitak U, Krainuwat K, Sriwijitkamol A, Vipawattana C. The effects of a diabetic self-management program on knowledge, behavior, and health Indexes among people with type 2 diabetes. Journal of Nursing Science 2013;31(1):7-18.
2011
Krainuwat K, Khunta A. Effects of a smoking cessation program and its unit cost for hospital employees. Thai Journal of Public Health Nursing 2011;25(1):1-14.
Krainuwat K, Meekusol S, Priyatruk, P. Health care services for clients with diabetes and hypertension: A perspective of community stakeholders. Journal of Nursing Science 2011;29(1):73-80.
2005-2010
Pandejpong, D., Ratanapitak, U., Krainuwat, K., Jaisue, N., Pandejpong, T., & Nopmaneejumrusiers, C. (2010). The effect of a life style modification campaign for Bangkok provincial electricity officers. Siriraj Medical Journal, 62, 62-65.
Krainuwat, K. (2008). href="http://thailand.digitaljournals.org/index.php/TJNC/article/view/2492" target="_new">Concepts of community nursing practice. Thai Journal of Nursing Council, 23(1), 10-20.
Krainuwat, K. (2006). An evaluation of the Strengthening Families Program in preventing youth smoking initiation. Dissertation Abstracts International, DAI-B 67/06. (UMI No. 3222961)
Riesch, S. K., Anderson, L. S., Angresano, N., Canty-Mitchell, J., Johnson, D. L., & Krainuwat, K. (2006). Evaluating content validity and test-retest reliability of the Children's Health Risk Behavior Scale. Public Health Nursing, 23(4), 366-372.
2005
Krainuwat, K. (2005). Smoking initiation prevention in youth: Implications for community health nursing practice. Journal of Community Health Nursing, 22(4), 195-204.